Travel Information
All ICLC 2016 events take place in Hamilton, Ontario, Canada - with some events situated on McMaster University's main campus and other events situated at arts venues in Hamilton's downtown. The city of Hamilton is located on the southwest corner of Lake Ontario, just south of Toronto and just west of Niagara Falls and Buffalo, New York. Situated at the place where the Dundas valley interrupts the Niagara escarpment, the city and its surroundings are home to a large number of waterfalls and scenic trails.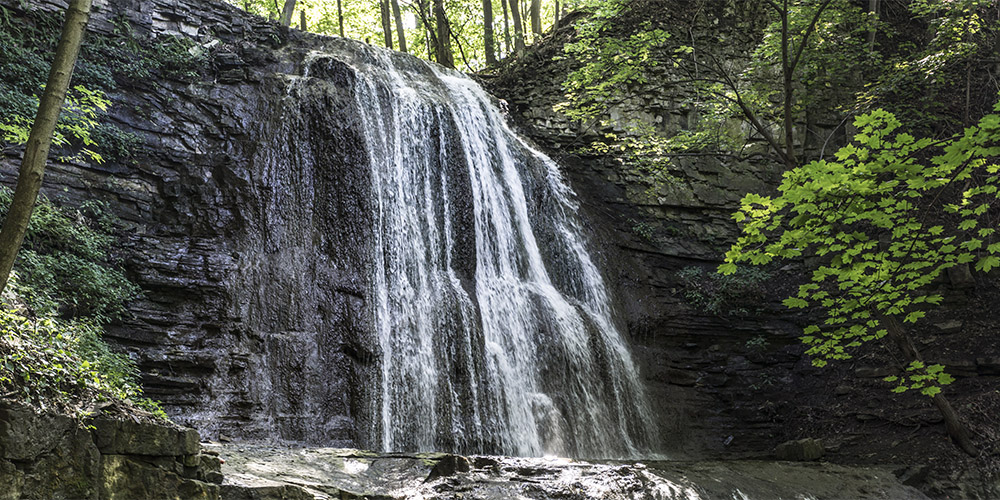 Sherman Falls, Hamilton, Ontario (Photo: Harold Sikkema).
Important note re: Canadian immigration requirements: If you are not a Canadian citizen or permanent resident, or United states citizen or permanent resident, you must have either a valid visitor visa or electronic travel authorization, both of which need to be requested well in advance of the conference. Which of the these two documents you require depends on your country of citizenship. Note that the electronic travel authorization is a new requirement so do not be misled by previous experiences visiting Canada without it. This interactive web page provided by Citizenship and Immigration Canada will help you determine whether you require a visitor visa or an electronic travel authorization, and contains links to the application process for both. The conference organizing commmittee will provide all non-Canadian conference attendees with an official letter of invitation that they can include in any visa/eTA applications and should also bring with them when they arrive in the country.
Getting to Hamilton by air: Most international visitors will arrive through Toronto's Pearson International Airport (YYZ) from which it is easy to travel on to downtown Hamilton via the #40 express coach operated by the GO regional public transit service.
A more limited selection of routes arrives directly at Hamilton International Airport (YHM), including flights from New York City and various parts of Canada. From YHM, a local taxi or local #20 bus (last departures end of the afternoon) will take travellers onwards to downtown Hamilton.
A third possible arrival airport is Toronto's downtown island airport, YTZ, with frequent flights from Montréal and New York City, in particular. To reach Hamilton from YTZ: a free shuttle from the airport takes you to Union Station, and from there both the Lakeshore West train and #16 express bus connections operated by GO transit take you onwards to Hamilton. (These are also the bus/train connections Torontonians would be most likely to use to arrive at the conference.)
By train: VIA Rail/Amtrak services connect Hamilton to Montréal, Ottawa, New York City and Windsor/Detroit, and beyond. If coming by train, select Aldershot station as your destination. From Aldershot station, quick bus connections provided by the GO regional public transit service will take you either to downtown Hamilton or directly to the McMaster university campus.
By car: Hamilton is a short drive from Buffalo and Detroit, and within a day's drive from Montréal, Chicago, Boston and New York City. Most hotels in downtown Hamilton provide free parking. On the McMaster campus, parking in daily economy lot is $7/day.